Having a well-functioning furnace is essential when it comes to keeping your home warm and cozy during the colder months. However, many misconceptions about furnace repair can lead homeowners to neglect the necessary maintenance and repairs that their furnace needs.
Here are some of the most common myths about furnace repair in Toronto and how understanding them can help you keep your furnace running efficiently and safely.
Myth #1: Furnaces only need repair when they break down
One of the most common misconceptions about furnace repair is that you only need to call a technician when your furnace stops working. While it is true that breakdowns can be an indication that your furnace needs repair, waiting until your furnace completely stops working can be dangerous and costly. Regular maintenance and inspections can help catch potential problems early on, preventing breakdowns and prolonging the life of your furnace.
Myth #2: Furnace repair is expensive
Even though furnace services can be expensive, putting off furnace maintenance can result in even more costly repairs or replacements. In addition, regular maintenance can help prevent the need for additional expenses altogether. Think of it as an investment in the longevity and efficiency of your furnace.
Myth #3: Furnace repair is easy and can be done as a DIY project
Many homeowners are under the misconception that furnace repair is easy and can be done as a DIY project. While there are some simple tasks that homeowners can do themselves, such as changing filters, furnace repair should be left to the Toronto HVAC professionals. Attempting to repair your furnace on your own can be dangerous and can even cause more damage.
Myth #4: All furnace repair companies in Toronto are the same
Choosing a reputable company with licensed and experienced technicians is vital to ensure your furnace is repaired correctly and safely. Feel free to do your research and ask for references or reviews before choosing a furnace repair company.
Myth #5: Furnace repair is not necessary for new or recently installed furnaces
Many homeowners believe that if their furnace is new or has recently been installed, furnace repair is not necessary. However, even new furnaces require regular maintenance to ensure efficient and safe operation. Neglecting regular maintenance can also void your furnace warranty or insurance.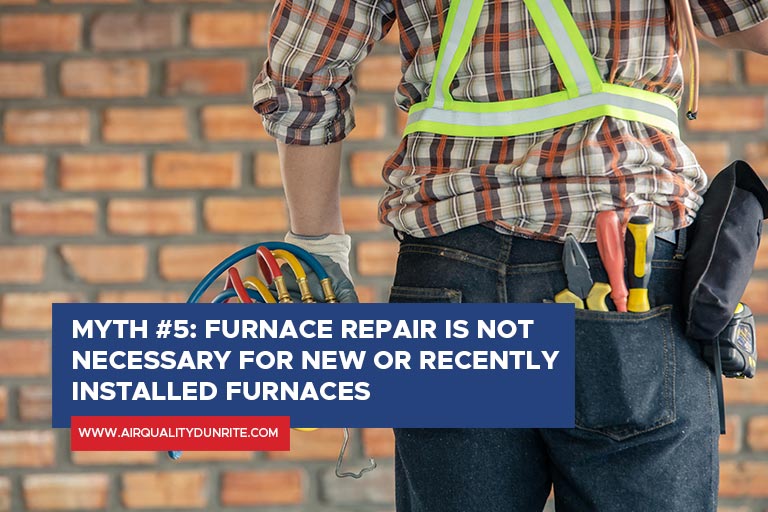 At Air Quality Dunrite, we offer professional furnace maintenance and repair services. Our licensed and experienced technicians can help keep your furnace running efficiently and safely. We also offer air conditioner repair and installation services in Toronto and nearby areas.
Call us today at (416) 342-1939 to schedule an appointment or learn more about our furnace repair and maintenance services. You can also submit our contact us form for your questions and concerns.