Air Conditioner Repair Mississauga
Temperature control is crucial for maintaining the comfort in your office or home. An air conditioning system helps keep your indoor air cool and clean by removing pollutants and mould in the air. To ensure that your AC is working all year-round, it requires expert mechanical attention from time to time.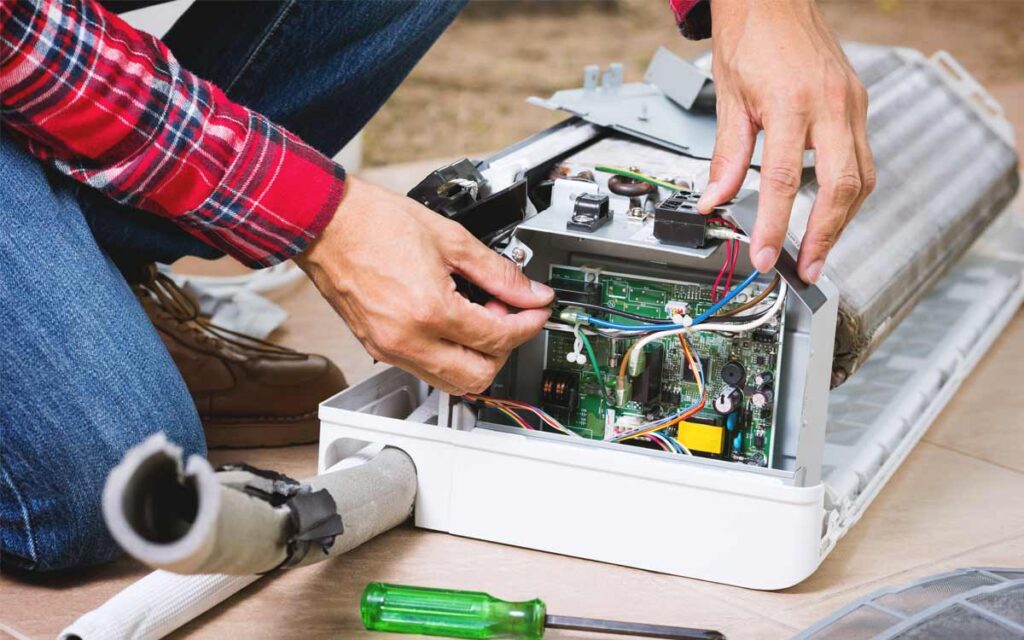 When your AC fails to work properly due to a mechanical issue, the Air Quality Dunrite team of licensed HVAC contractors can fix it in no time. We offer air conditioning repair services that the residents in Mississauga and the GTA area can depend on 24 hours a day, 7 days a week. We have been in the heating & air conditioning service business for over 30 years, we pride ourselves on providing each of our clients with high quality work, and fast, transparent services.
Our certified air conditioner repair specialists in Mississauga have worked with all major brand of air conditioners. We have a wide selection of spare parts on hand so we can get your AC back up and running as soon as possible.
Signs You Need an Air Conditioning Repair in Mississauga
If you are looking for a fast and reliable air conditioner repair solution in Mississauga, look no further than Air Quality Dunrite. We will immediately respond to your problem, conduct an inspection, obtain an accurate diagnosis and give the right care and attention that your system requires.
Whether you need a split-type or a ductless air conditioner repair service, all our HVAC technicians are knowledgeable and experts in restoring the functionality of your air conditioning system in a prompt and efficient method. We understand the inconvenience that comes with a broken AC; that is why we offer our clients with round-the-clock emergency air conditioning services. If your AC starts to show signs of malfunction, call us, and we will be there as quickly as we can to fix the problem.
Weird or loud noises (may indicate that your system has a loose component)
High humidity levels (may need a simple re-calibration or it is time to consider a whole-house dehumidifier)
Short cycling (may be caused by a dirty air filter or low refrigerant due to a leaking problem)
Insufficient airflow (may be caused by a clogged air filter, a damaged motor or a more serious problem)
Warm air (problem may be triggered by a restricted airflow or a malfunctioning compressor)
Water leaks (may be caused by a blocked drain line, dirty air filter, cracked drain overflow pan, improper installation, or malfunctioning pump)
High utility bills (may be caused by a clogged air filter, damaged parts, duct leaks, low refrigerant level, poor maintenance, incorrect installation, old system)
Unpleasant odour (may be caused by mildew or mould growth)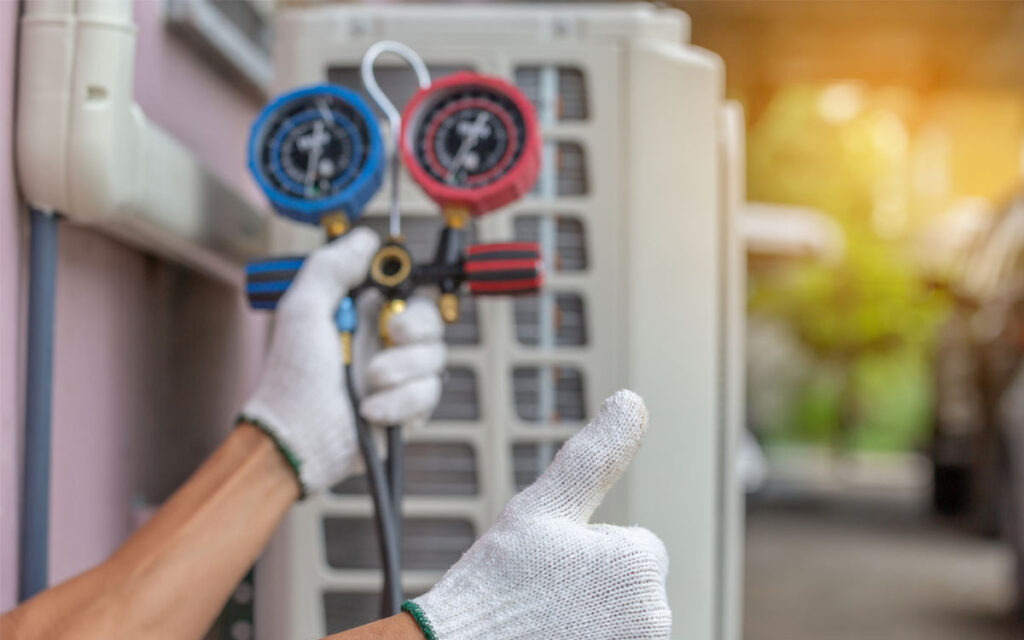 Why Trust Our AC Repair Services in Mississauga
Over the years, we have built our reputation through high-quality air conditioning & furnace repair services and exceptional customer satisfaction.
Timely Response
Providing our clients with speedy services is the name of our game. With Air Quality Dunrite, you do not have to wait for days. If you have a broken AC that needs repair, get hold of us anytime. Simply contact our 24/7 friendly customer service and trust us to be there in no time.
Licensed, Certified AC Technicians
We have a team of professionals who have obtained training courses to ensure that our clients get the best quality services and customer satisfaction.
Over 30 Years of Experience
Our more than 3 decades of providing fast and dependable AC repairs and services, along with positive reviews and referrals, has made us the trusted HVAC company in Mississauga.
Exceptional Customer Service
Whatever your AC repair needs are, trust us to give you the right solutions to get your AC up and running again.
Honesty and Integrity
Once we determined the problem, we will provide you with a straightforward quote detailing the exact payment of the products and services you need . We do not include any unnecessary services or sell you extra.
Book Our Air Conditioning Services in Mississauga Today!
Summer heat can be brutal. Call us today at (416) 342-1939 to get your AC repaired and ensure cool and comfortable indoor air at home or office.
Schedule Appointment Now & Get Free Estimate​