Whenever you need an emergency air conditioner repair in Vaughan and the GTA area, turn to Air Quality Dunrite to keep your home or office cool and refreshing all summer long. We have professional, knowledgeable, and qualified technicians to diagnose the problem and repair only what is required. When your AC works at its peak performance, it ensures lower energy bills, so do not let any problems go unfixed.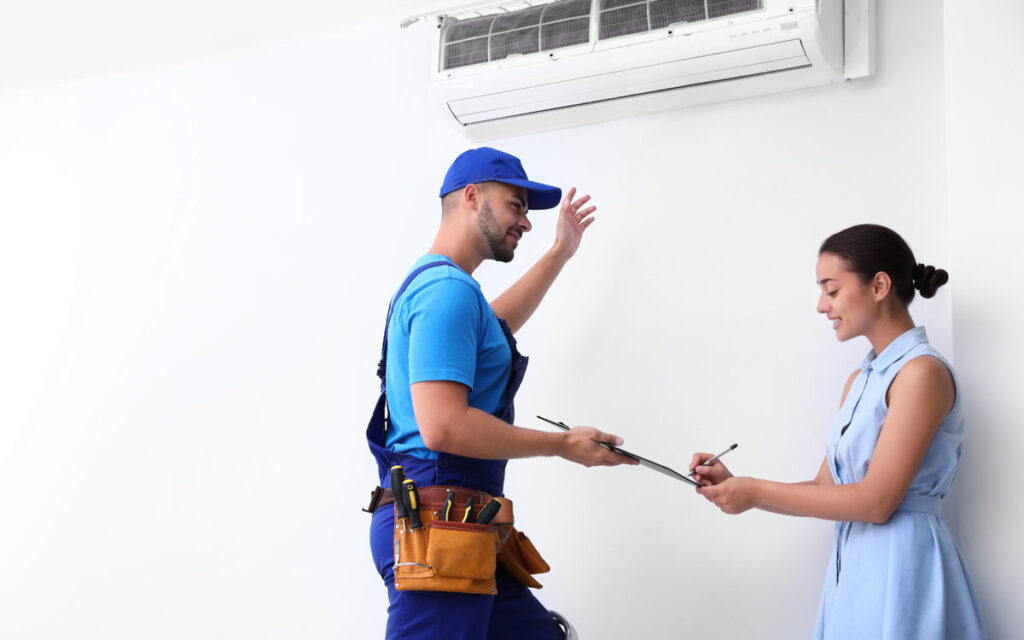 Signs You Need an Air Conditioning Repair in Vaughan
Air Quality Dunrite is your go-to air conditioner repair solution in Vaughan. We will send one of our trusted and reliable professionals to perform a thorough inspection to obtain the right diagnosis and correction of the underlying issues and give your AC the right care and attention it requires. Our team of technicians follows strict diagnostic standard operating procedures to determine the root causes of the problem.
As your trusted HVAC company, our heating & air conditioning specialists have the knowledge and expertise in restoring the functionality of your AC system quickly and efficiently. When you call us, we will address your concerns promptly and offer round-the-clock emergency air conditioning services. If you notice any signs of a failing AC, do not hesitate to contact our expert HVAC contractor for reliable air conditioning repair:
Here's what you need to look out for:
Weird or loud noises (may indicate a loose part)
High humidity levels (may require a simple re-calibration or you may need to consider a whole-house dehumidifier)
Short cycling (may be caused by a clogged air filter or low refrigerant due to leaks)
Poor airflow (may be caused by a clogged air filter, a broken motor or something even more serious)
Warm air (may be caused by a restricted airflow or a compressor issue)
Water leaks (may be caused by a clogged drain line or air filter, damaged drain overflow pan, incorrect installation, or malfunctioning pump)
High utility bills (may be caused by a dirty air filter, failing parts, duct leaks, low refrigerant, lack of maintenance, improper installation, old system)
Unusual odour (may be caused by mildew or fungus growth)
In our more than 30 years of experience in the HVAC industry, we have solved wide-ranging problems from minor issues to major air conditioning & furnace repair challenges. Our licensed repairmen have attended to just about every AC problem under the sun.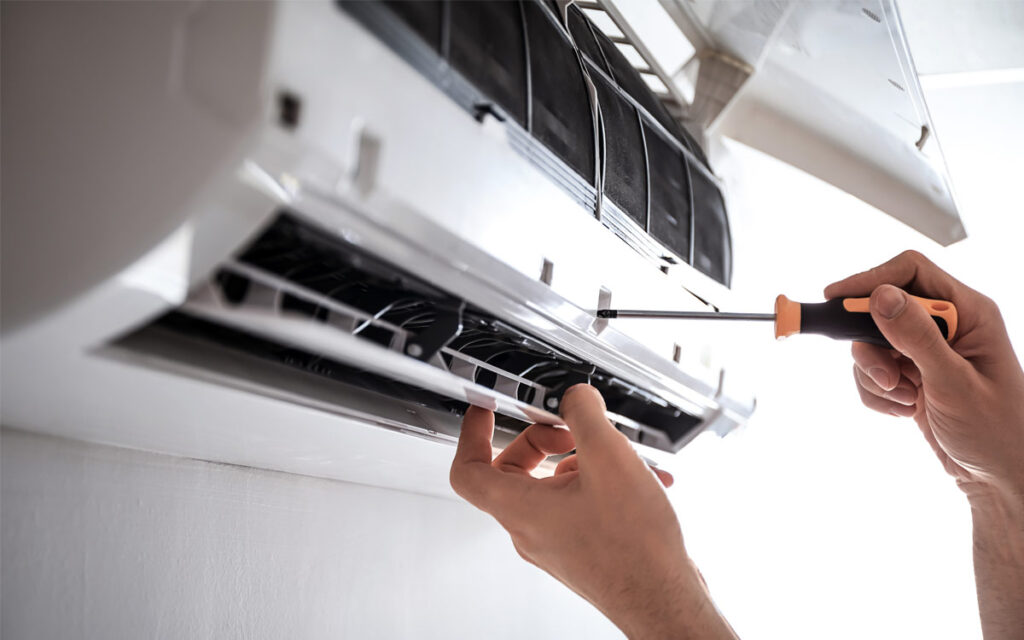 As a reputable company for AC repairs and services in Vaughan, it is our pride to provide our clients with thorough and lasting solutions, 24 hours a day, 7 days a week. We are trained to identify the issue quickly and offer long-term results.
Why Trust Our Vaughan Air Conditioner Repair Specialists
There are many reasons why you should sign up with our ductless air conditioner repair services.
We Respond on Time
We believe in providing speedy services that is why there is no long waiting times with us. We have 24/7 friendly, qualified customer services that will readily respond to your concerns. You can get hold of us anytime, and we will be there to attend to your AC needs without costing you extra.
We Have Licensed, Certified Technicians
We take pride in our pool of certified and experienced AC specialists who underwent various training programs to provide you with the highest quality services and customer satisfaction.
Over 30 Years of Experience
Our reputation is built on decades of providing excellent customer satisfaction. We attract new clients through positive reviews and referrals from our satisfied customers.
Exceptional Customer Service
We have warm and friendly customer service personnel who will attend and accommodate all your specific needs.
Honesty and Integrity
Once we diagnose your air conditioner problem, we will present you with a quote so you will know exactly how much you will be paying for the service. We will only proceed with our service once we receive your approval. Unlike other companies, we do not upsell, recommend unnecessary services, or sell you something extra. You will only be paying for the products and services you need.
Book Our Air Conditioning Services in Vaughan Today!
Be ready for the heat. Get your AC repair right before the scourging summer months. Call us today at (416) 342-1939 and we will send a professional AC specialist to keep your home or office cool and comfortable.
Schedule Appointment Now & Get Free Estimate​