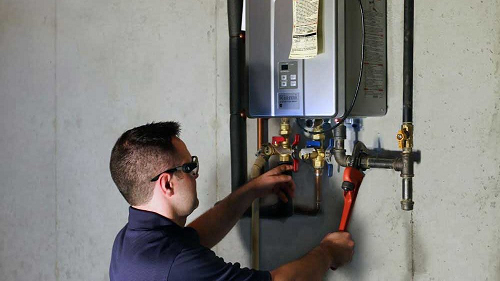 Have you ever had the hot shower goodness turn cold on you? If you have a large family you'll appreciate the chance to get endless hot water – and you'll spend less every month to do it.
Advantages of Tankless Water Heaters
Never run out of hot water.
You'll save money on your monthly energy bills. Tankless water heaters only heat water when you turn on the tap – they don't waste energy heating water while you're asleep or at work. Recirculating models are even more efficient.
Save on installation. Many high efficiency tankless water heater installations qualify for great rebates.
Space saving. You can reclaim some valuable square footage in your utility room when you upgrade to a tankless model.
Longer lifespan. Tankless models tend to last almost twice as long as a tank.
No risk of flooding. Tankless models have safety mechanisms that prevent flooding if something goes wrong. Conventional tanks are famous for ruptured tanks.
Eco friendly. Fewer greenhouse gasses are emitted with a tankless model
Are Tankless Water Heaters Right For You?
A tankless water heater will make sense for you if:
You plan to stay in your home for many years. Over time, the monthly energy savings will add up and pay for the cost of tankless heater.
You have a large family, and are constantly running out of hot water.
Your family is away during the weekdays. If everyone is at work or school all day, you'll save money because the unit isn't heating any water.
Here are some facts that you should take into account:
Tankless water heaters are more expensive to install if your home is already set up for a standard water tank. The natural gas line and venting will likely need to be moved and may require an upgrade.
You need to keep up with your maintenance to get the full efficiency benefit from a tankless model. Most people ignore the maintenance requirements on regular water tanks, but with a tankless you need to make sure any calcium buildup in the lines is removed yearly (especially if you have hard water).
For very large homes with lots of simultaneous water draws, you may want to install more than one tankless water heater to ensure all locations get enough water. If your family tends to shower and do laundry at separate times, one will be plenty.
If you have questions about tankless water heaters and finding the right solution for you, talk with your Air Quality Dunrite representative.
Protection Plans
Keep your system's at optimal energy efficiency